Noise Colorfit Pro 4 Max Vs Noise Colorfit Pro 4: Which is the Best?
In the new era of increasing technologies, Smartwatches emerged and impacted youth. All people, irrespective of their age, are admired with the emergence of more and more smartwatches. Companies have competition within themselves in introducing smartwatches. And the fact is that every watch released is better than each other.
So it will always be difficult to get the right product for you. That's why we offer you an easy way to get through this. Today, in this article, we will compare the Smartwatch Noise Colorfit Pro 4 Max and the Smartwatch Pro 4.
Noise Colorfit Pro 4 Max Vs Noise Colorfit Pro 4 Full Comparison Review in Details
Come, you can have a complete details of the smartwatches with this comparison. You can also check the competitive watches like Noise Colorfit Pro 4 Max and Pro 3 Alpha comparison. We always give you our thoughts after checking every detail of them. Each Smartwatch's technical and performance sides are examined carefully, so our followers would find it easy to select between their confused ones. 
Compare Noise Colorfit Pro 4 Max and Noise Pro 4 Full Specifications Details
| | | |
| --- | --- | --- |
| Features | Noise Colorfit Pro 4 Max | Noise Colorfit Pro 4 |
| Bluetooth Calling | Yes | Yes |
| Bluetooth Range | 10m | 10m |
| Watch faces | Multiple | Multiple |
| Display | HD | HD |
| Display screen | TFT Display | Truview |
| Display shape | Rectangular | Rectangular |
| Refresh Rate | 40Hz | 60Hz |
| Display size | 1.80" | 1.72" |
| Frame material | Aluminium alloy | Aluminium alloy |
| Brightness | 500 nit | 500 nit |
| Fitness modes | Walking, running, swimming, cycling, badminton, trekking, jogging, and 90+ modes | Cycling,running,swimming, walking, football, badminton, trekking and 90+modes |
| Extra features | Yes | Yes |
| Call alerts | Yes | Yes |
| Smart notification | Yes | Yes |
| Health Trackers | Yes | Yes |
| Battery Life | 15 days | 10 days |
| Heart rate monitor | Yes | Yes |
| SPO2 monitor | Yes | Yes |
| Box Content | 1 Smartwatch, Charging Cable, User Manual, Thank You Card | Smartwatch, magnetic charger, User Manual, Warranty card |
Display Features Comparison
The display has always been an attractive element of smartwatches. Analyzing the Noise Colorfit Pro 4 Max array, we see that it has a 1.8″ display with 240 x 285 resolution and square edges. The specialty of the display is that it is TFT LCD. It comes with attractive and super curved edges. It offers a refresh rate of only 40 Hz, less than the Colorfit Pro 4. And another display feature is that it is scratch-resistant.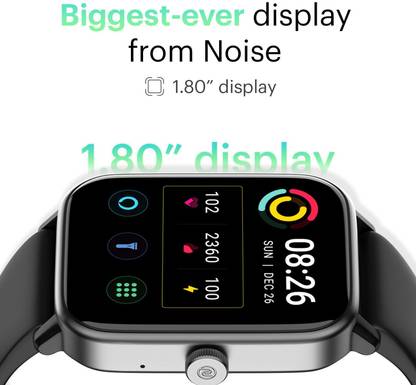 Talking about the display of Noise Colorfit Pro 4, we notice that it is launched with Witness absolute clarity. It has a 1.72″ collection. They have not mentioned whether it is an LCD or Amolded. But by examining it, we noticed that it has a TFT LCD and Trueview Display.
It has a pixel clarity of 311 PPI and a resolution of 356 x 400. To use the watch under the sun, even on sunny days, without any problem, they have given 500 NITS brightness. Moving on to the refresh rate, they provided a smoother screen display with a 60Hz refresh rate.
Design, Look and Build Comparison: Noise Pro 4 Max VS Pro 4
Pro 4 Max is a premium build one. Aluminum metal is used to make the frame, and the downside is constructed of plastic. But, when we compare it with Noise Colorfit Pro 4, I think it is more premium built because the downside is made of a ceramic material, giving the watch a more elegant look. The straps are available in different colors.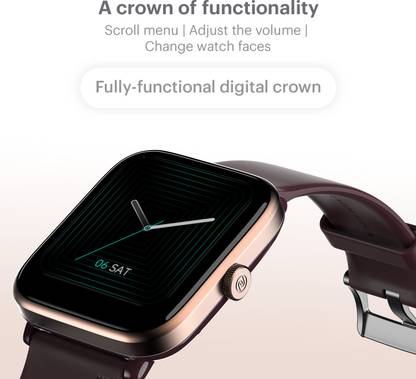 Moving on to the straps, both of the watches have almost the same quality straps. Both are made of silicone. Noise Colorfit Pro 4 comes with a buckle strap, while Noise Colorfit Pro 4 max has a belt similar to the ones seen in Apple watches. The straps of both smartwatches are replaceable.
These smartwatches also have crown facilities. Like most smartwatches, the Noise colorfit Pro 4 Max crown acts as a dummy. It has no use. But Noise Colorfit Pro 4's crown is digital, and the button works perfectly. We can scroll down the menu, increase or decrease the volume and change the watch faces.
Here Also, Noise Colorfit Pro 4 is better or worth the price.
Comparing Battery Features Of Noise Pro 4 Max and Pro 4 Smartwatches
Battery life is yet another important feature in selecting smartwatches. They have a 300mAh battery capacity. The company offers 7 days of battery life. But there is normal Bluetooth pairing. So when you use the watch for Bluetooth calling, you can expect a 3 days battery life.
Without Bluetooth calling, it will last for 5-6 days. And also, both of the smartwatches have a rechargeable battery. They also have a magnetic charger. You can also check the comparison of Noise Colorfit Pro 4 Max Vs. Colorfit Ultra 2.
So, both are equal and non-comparable in the case of battery.
Details Of Health Tracking And Fitness Features
Noise Colorfit Pro 4 and Pro 4 Max offer similar health detecting facilities. It has a Heart Sensor, Spo2 sensor, Sleep monitoring, Stress monitor, breathing exercises, etc. But in Colorfit Pro 4 Max, you can detect noise, i.e., you can examine the rate of noise around you.
Both the smartwatches have perfect sports modes up to 100. All of them are categorized. In Pro 4 Max, when you activate sports mode, you can hear AI Voice with the help of AI Partner Voice Assistant. This feature will be better and easy for you to work out on time.
But this feature is absent in Colorfit Pro 4. A better part of Colorfit Pro 4 is its auto-detection of sports modes. When you run with the watch tied in hand, it automatically turns on and asks whether to turn on the running way.
Connectivity Performance Difference Between Noise Colorfit Pro 4 and Pro 4 Max
These smartwatches are specially for Bluetooth calling purposes. Therefore it comes with a 5.3 Bluetooth version and can get up to 10 meters. It can be connected with iOS 11 and the rest high versions. In android, it is compatible with Android 9 and higher versions.
Compare Calling And Notification Facilities
Pro 4 Max and Colorfit Pro 4 are Bluetooth calling watches. You can call from the Smartwatch and add your favorite ones. It has a dial pad, and you can see the missed calls also. But Noise Colorfit Pro 4 Max has an extra In-built Alexa feature that helps pair it with other devices. And also, it has other voice assistants like Siri and Google Assistant. Unfortunately, Colorfit Pro 4 doesn't have any assistant features.
Moving to notifications, we noticed that both watches get messages instantly. In Pro 4, we can see the notifications as a list. But in Pro 4 Max, the notifications are categorized as email notifications, call notifications, and app notifications, so we can easily check them. But for access notifications, you must have to install the apps.
While calling, both the watches have very crisp and clear audio. You can dial and initiate the call with a dial pad. Otherwise, you can access the contacts menu, And also you have an option to add your favorites. While a call is coming, you have the option to reject and answer the calls. In Pro 4, you have two more features while a call is coming, the silent options and preset SMS.
Touch Controls Performance Difference Between Noise Smartwatches
Both watches have the same controls. There will be notifications panel when you swipe down on the main screen. There all the notifications are organized. There are four options from which you can select which messages you want. When you swipe up, more options can be seen. It will display the date, temperature, and time on the top. Then you can see DND mode, battery life, torchlight, etc.
The brightness of the watch can also be controlled manually. Now, swiping left will give you the activity details you have done today. It will provide information about how many steps and kilometers you have walked, the time is taken, and more.
When you continue moving to the left, you can see the Heart Rate Monitoring and then the stress monitoring. Then also there is a current workout page. You can press the crown given if you want to access all the apps and widgets on the screen.
Speaker And Mic Quality: Which Noise Smartwatch is Better?
Both these smartwatches have the best audio quality. They have an in-built mic. It is good and works perfectly. As we tested the call quality, it works perfectly and has no audio quality issues. The speaker has a very crisp and clear voice.
Many smartwatches have a point in calling even though they are Bluetooth-calling ones. Till now, it has no issues with calling features. You can call anyone far or near without any problems or buffering.
Other Features Available In Noise Colorfit Pro 4 And Pro 4 Max Smartwatches:
Both the smartwatches have weather forecasts, but in Pro 4 Max, Alexa will say the estimates. So, the stock option is not available. But in Pro 4, we can see the stocks option. So if you constantly check stock marketing, this will be helpful. Also, the Alexa option is very helpful for us.
The main distinguishing feature between the smartwatches is the application that connects. In Pro 4 Max, there is Noise Fit Assist where you have 150+ cloud watch faces. You can also save up to 5 watch faces. In Pro 4, there is Noise Fit. Both apps have a lot of watch faces that are normal and animated. But the animated faces in Pro 4 are smoother than in the Pro 4 Max.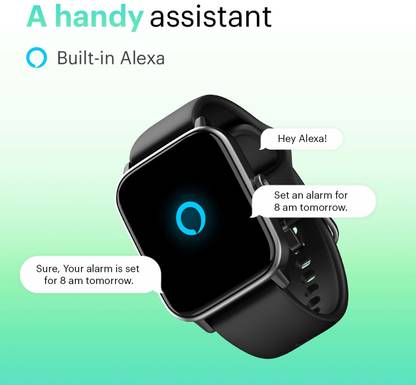 Coming to the water resistance, both the smartwatches are IP68 water-resistant. So, you can swim underwater with these watches. Splash resistant along with sweat also. Then, Colorfit Pro 4 Max has an extra feature to set ringtones. You can select the ringtone for calls and messages from the given list.
They also have other smart features like Music control, timer, stopwatch, forecast, and Find my phone options. These all are essential ones in our life daily. We don't have to take your phone to look after these credentials.
Then comes the sensors. All of them works well. But the values are different. When we checked the heart rate and spo2 in both oximeter and watch, they both showed slightly different values. But can be said its precise. Other than heart rate and Spo2 sensors, there is sleep monitoring feature. Also you can analyse the stress level. They also has breathing exercises and calories burnt.
Noise Colorfit Pro 4 Max and Noise Colorfit Pro 4 FAQ
Does Colorfit Pro 4 have in built Alexa?
No, it doesn't have alexa.
What is the refresh rate of Pro 4?
It has a 60Hz refresh rate.
What is the battery capacity?
Both of them have 300mAh battery.
Which voice assistant does Pro 4 Max have?
Alexa, Google assistant and Siri.
Do both watches have a TFT LCD display?
Yes, both of them are the same.
Noise Colorfit Pro 4 Max Smartwatch or Noise Colorfit Pro 4: Which One To Choose?
Like any other Noise smartwatches, both of these smartwatches have amazing features. We have gone through the comparison of both the smartwatches. Both have the best calling, health monitoring, and 100 sports modes. If you want more of a compact or smooth display, you can go for Pro 4. But if you want a watch with Alexa and voice assistant or a bigger display and noise detection feature, you can opt for Noise Colorfit Pro 4 Max smartwatch.
When we look at the features, we can see similar features for both the smartwatches like Fire-Boltt ring 3 Vs. Noise Colorfit Pro 4 Max. If we check the main and wanted features of both these watches, both have similar ones. But examining deeply, I think a better option will be Pro 4 will be ideal at this price. It is your need that makes a watch your favorite. So choose one wisely.
Noise Colorfit Pro 4 Max and Pro 4 Smartwatches Best Price Deals and Discount offers Online
Noise Colorfit Pro 4 Max best price in India
Noise Colorfit Pro 4 best price in India