Realme Buds Air 3 Vs Realme Buds Air 2: Which TWS is Best?
The invention of Air Buds had brought about an incredible upgrade in the lifestyle of people, especially music enthusiasts. Air buds provide the listeners with the most intimate experience of listening to music and the true pleasure of listening to every tiny detail. In this post we will compare realme buds air 3 and realme buds air 2 true wireless Bluetooth headsets.
They're also far more compact and provide you with greater mobility. When buying one for yourself, the wisest strategy is to choose the device that's now the most popular on the market. If you select a product that is currently in great demand among buyers, there's a good chance that you'll get more than you intended.
Realme Buds Air 3 Vs Realme Buds Air 2 Comparison
Below is the comparison between two leading Air Buds, Realme bus Air 2. Let's find out if it's better to go with Buds Air 2 and save a thousand, or is it worth spending another extra thousand. In order to make the process more convenient for you, we have brought into light the key features and an extensive analysis of both the products with a detailed comparison of the same.
Compare Full Specifications of Realme Buds Air 3 and Buds Air 2



Overview
Description
Brand/Store
Availability
User Rating
Review
Battery Features
Total Playback Time
Charging Case Battery Life
TWS Case Battery Capacity
Supports Fast Charging
Charging Case Charging Time
Connectivity Options
Bluetooth Version
Dual Pairing
Available I/O Ports
Audio and Sound Features
With Microphone
Driver Size
Noise Cancellation
Voice Assistant
Special Features
Special Features
General
Brand
Product Type
Model Name
Available colors
Wireless Earphone Connectivity Options
Connectivity
Bluetooth Neckband Sound & Audio Features
Driver Type
Equalizer Mode(EQ Mode)
Frequency Response
Other Features & Specs
Headphone Design
Weight
Power Supply
Water and Sweat Protection
Audio & Sound Features
Audio Codec
Battery Features
Battery Capacity (mAh)
Battery Type
Play Time (hrs)
Charging Time
ASAP Fast Charging
Features and Specs
Water Resistant
Connectivity Options
Bluetooth Range (m)
Accessories in Box
Product Box Content
Specification
Model Name
Controls
Headphone Driver Units (mm)
Noise Reduction (dB)
Other Sound Features
Inline Remote
Headphone Type
Sales Package
Sweat Proof
Deep Bass
Monaural
Designed For
Wireless Type
Wireless Range (m)
Height (mm)
Depth (mm)
Weight (g)
Domestic Warranty (Year)
Warranty Summary
Warranty Service Type
Covered in Warranty
Headphone Power Source
Headphone Battery
Battery Life (hrs)
Charging Time (hours)
Bluetooth Profiles
Width (mm)
Not Covered in Warranty
Open/Closed Back
Impedance (ohm)
Foldable/Collapsible
Battery Output (V)
International Warranty (Year)
Power Source
Inline Remote
Button Controls
Realme Buds Air 3 Today's Best Price
Realme Buds Air 2 Today's Best Price
Design and Build Comparison
Realme Buds Air 2 – These Stylish earbuds will get your attention wherever you go owing to their gem-like gloss on the top and attractive design. The Stem comes with a silicon tip and is also splash and sweat resistant which comes with its IPX 5 rating.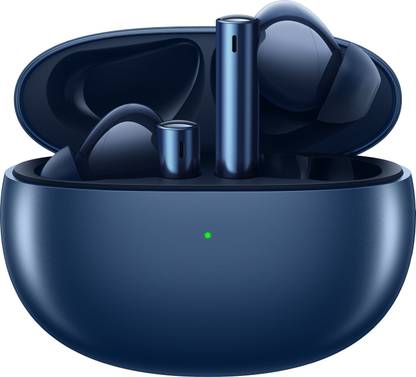 The headset's charging case is spherical and easily slips into your pockets. The charge indication is visible in the front. The right side has a function key, while the bottom has a USB Type-C connector. These have an in-ear design and are pre-fitted with medium-sized ear tips. They also provide you with various sizes of buds, and you may switch to packaged Big and Small-sized ear tips according to your convenience.
The optical sensor and wear detection feature enable the buds to halt the audio when you take it out and resume when you put it back in. A touch-sensitive region on the outside surface, below the microphone, allows you to control play/pause, launch Google Assistant, and answer or reject calls.
The Realme Buds Air 3 has a similar design to its previous one. However, there are a few differences. The brand name is shown on the top, and the case is provided with a silk-like look with its matte finish. One of the major improvements in this version is the space provided in the case for the stem to fit and be taken out easily, which was absent in the Buds Air 2. 
The buds are made entirely of plastic, with a glossy in-ear portion and a smooth surface on the stems and shell. The earphones' stems are slimmer and shorter than most other earbuds in almost the same budget range.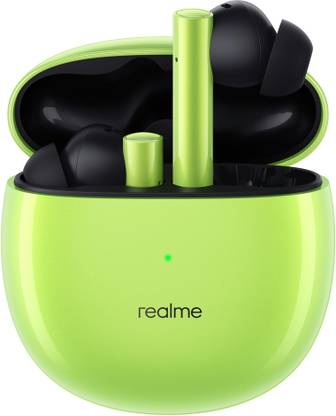 Buds Air 2 offers a new technology for called wind cancellation that makes sure to provide the user with an enhanced noise cancellation experience by preventing wind-induced vibrations. The most evident difference is the shorter stems, which contribute to the Buds Air 3's lower weight and excellent fit in the ears.
The in-ear fit offered in buds air 3 provides a comfortable fit and does not fall out even for heavy movements. Adjustable silicone tips give the perfect in-ear comfort just like the buds air 2. The case is very small, compact, and economically designed. And at the bottom is located a USB Type-C charging connector and a restart button at the side. 
Battery Life and Performance Comparison
The Realme Buds Air 3 offers a cumulative battery life of 30 hours when the active noise cancellation is disabled and roughly a life of 22 hours with the active noise cancellation enabled. With noise cancellation activated, Realme forecasts 5.5 hours on the buds.
The earbuds may also be charged for approximately 10 minutes to provide up to 2 hours of music listening with its fast charging technology which is the best thing about today's gadgets. The case has the ability to charge the earphones three times, giving you an overall standby time of much more than 20 hours, making it one of the best choices.
With these earphones and charging cases, you can free yourselves from the ritual of regular charging and enjoy the audio streaming all day for constant amusement.
Realme Buds Air 2 also provides the users a decent battery life of up to 25 hours of overall battery capacity when the active noise cancellation is disabled. And a little lesser when its active noise cancellation is turned on – 22.5 hours of total battery life with the 400mAh charging case.
It also offers fast charging. Ten minutes of charging results in 120 minutes of playback. This is especially very helpful at times when you need a quicker charge. The total time it is going to take for a fully charged case is 2 hours and 1 hour to fully charge the earbuds. In a nutshell, when it comes to charging and battery life, the Buds Air 3 performs better. 
Controls Comparisons: Realme Air 3 Earphones Vs Air 2 Headphones
One of the unique features of realme buds air 2 is that It instantly couples to the device anytime you bring the case with the headset close to the phone with Bluetooth switched on because it includes Google pairing mode that supports compatible phones. The touch controls in the device are simple to use and work well. A list of available control functions are,
Answering and disconnecting calls when you double-tap the Earbud (either of the two sides) – Double-tap,
Rejecting calls when you – Long press 2s,
Shifting to the next or previous track when you – Triple tap,
Toggles between the Active noise cancellation mode and Transparency Mode when you – Long-press any one of the earbuds for a time frame of two seconds, Turns on the gaming mode both the buds are Long pressed for about two seconds.
And as mentioned earlier, the intelligent wear detection features automatically pauses and play with the movement of the buds from and to the ears. Users can also customize the various functions available per their wish, which makes it more convenient. However, volume control is not available.
Users can juggle on the run with these earphones' sophisticated touch controls. These controls let you accomplish anything with a touch of your finger, including answering calls, music, switching to the next track, and using the voice search.
Regarding Realme Buds Air 3's controls, Similar to the buds air 2, The touch controls are also quite adequate and simple to use and are primarily similar to its precedes. For a shift from the active noise cancellation mode to the transparency mode, all you have to do is a long press on the right Earbud, and for gaming mode, it's a long press on both buds.
The Smart Wear Detection technology is really helpful in identifying when the buds are worn and taken out, and functions stop and play accordingly. While listening to music, triple tapping will enable you to shift to the next track.
Sound Quality Performance, Call Audio Comparison
Here comes the most crucial part, the sound quality performance in Realme Buds Air has been tuned by Chainsmokers, an American electronic DJ and production combo who calibrated the new Bass Boost+ Mode, the perfect fit for the ones who enjoy big bass.
The 10mm driver handles high, medium, and low frequencies effectively; audio quality is good with clear vocals and a considerable amount of bass when AAC is enabled. When it comes to the quality of the microphone, Buds Air 2 is better than 3 since in buds air 3 the position of the microphone is shifted to the top.
So for calls and people who want to buy the product, especially for the purpose of calls, then buds air 2 will be the better choice. The three modes available are ANC, Normal mode, and Transparency mode, which allows the user to toggle between them.
Overall the audio quality produced is good. The convenience and comfort of usage, together with the exceptional microphone quality, make the Realme Buds Air 2 ideal for phone calls.
Similarly, You may enjoy a realistic listening experience with crystal-clear voices, deep bass, and detailed audio. When you put these earphones on, the outstanding LCP diaphragm and 10 mm driver give a fascinating audio experience with powerful and snappy sounds with a reasonable degree of bass that isn't overbearing.
On a volume front, they are more than comfortable listening to between 30% to 40%. The Buds Air 3 has good ANC with its strong mode allowing the cancellation of loud background noises, and mild mode, minimizing lesser frequency sounds like the sound of a fan.
The frequency range is perfectly balanced and is quite enjoyable with its volume enhancer function. Compared to the Buds Air 2, the Buds Air 3 is slightly louder and has a lot more clarity. The vocals are more enhanced in the Buds Air 3 compared to 2.
So in terms of audio, Buds Air 3 is definitely better and improved than Buds Air 2.
Latency Comparison Between Realme Buds Air 3 Headset and Realme Buds Air 2 True Wireless Earbuds
The amount of time that is taken by the audio signal to reach the receiver or the listening device is known as latency. Audio lag is reduced via lower latency, which is especially significant while playing games or viewing films. Good latency can provide the user with a seamless gaming experience.
Both the products have almost similar features when it comes to latency. Long pressing on both earphones activates the Gaming Mode, decreasing latency to around 88 milliseconds,
which is a 35 percent reduction over the previous generation. The in-game sound and video will be in steady sync with this mode, providing you with a flawless gaming experience. Both the products have a low-latency game of 88ms.
It is nearly very rare to find any sound lag during gaming mode. This is due to the realme's R1 processor, which promises greater sound quality and decreased latency when used with the realme Buds Air. They enable then users to hear clearly every minute detail in the game, from the footsteps to gunshots, with no significant lag, thus providing the best gaming experience.
Also, discover excellent sound-to-picture connectivity with the Realme Buds Air 2 and 3. The sound and the projection are always in perfect synchronization, yet again making the experience realistic. 
They also feature the Advanced Audio Coding Bluetooth Codec, which helps to reduce latency significantly. Furthermore, realme employs "Dual Channel Real-time Transmission," in which the music is in sync with both buds at the same time, lowering latency significantly. When compared to any TWS earphones in the pricing range or even more costly ones, Realme Buds Air 2 offers the lowest latency.
Verdict: Which one TWS Earbud is the Best? Realme Buds Air 3 or Realme Buds Air 2 Bluetooth Headset
Comparing and analyzing the features of both Realme Buds Air 2 and Realme Buds Air 3 shows that both have their own specialties. So it cannot be concluded that one is better than the other because both versions do justice to the price.
Though the Realme Buds Air 3 had specific add-on features and a whole lot of improvement from the Buds Air 2, which makes it worth the price. The Realme Buds Air 2 has a better sound signature, controls, app compatibility, ANC, transparency mode, gaming latency, and design than the Realme Buds Air 3.
The Buds Air 3, on the other side, offers a marginal advantage in terms of call quality and battery life. Now the choice is left to the buyers to decide which one will work best for their purpose. 
Best Price Deals, Discount offers on Realme Buds Air 3 and Realme Buds Air 2
Realme Buds Air 3
Realme Buds Air 2